It was the Friday before my Spring Break and quite possibly the worst thing in the world happened to me: I got rear-ended while at a stop. Well, okay, it's not the worst thing in the world but to a college student who loves his car, it was pretty bad. The lady who hit me did quite a number on my back end, and then pushed me into the car in front of me. Despite my airbags not going off, my car was totaled. The damage to the bumper, right rear quarter panel, and unibody frame were just too much.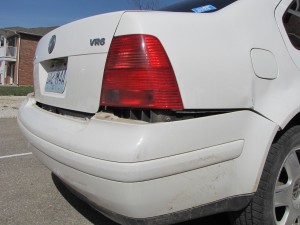 With the Jetta totaled I had three options: Buy it back and spend the $1000 left over on repairs/hookers, give it away to the insurance company and spend <$2400 on a beater from Craigslist, or do the financially irresponsible thing and buy the new car I've been dreaming of, going into debt even further than I already was.
Guess which option I chose: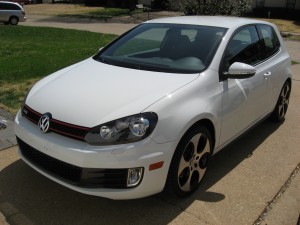 Yes, that's right. I bought myself a new MkVI GTI. Since I had some money saved up from my recent internship, will be starting work in a couple of months, and was planning on buying one within a year I decided to go for it. I ended up paying $22,500 for it, which is a few hundred below dealer invoice for the options that I wanted on it. I won't go into any car buying tips here, I'll save that for another post.
Overall, I'm very pleased with my purchase. Here's why:
Performance: It's got the VW 2.0L TSI turbocharged engine in it which puts out 200 hp. That's only a little more than my old VR6 Jetta, but the lighter engine makes a difference. I'm still breaking the engine in, but from what I can tell from accidentally giving too much gas, it can put down some power.
Handling: With the sport-tuned suspension, this thing handles like a beast. With simply taking corners quickly and turning smoothly, I have yet to break the tires loose from the road. There's also a roundabout here in Rolla which I took at speeds that I'm not at liberty to discuss publicly since I'm sure that the city police would frown upon that.
The car also has a pseudo-locking differential called XDS. This is part of the electronic stability control system. What XDS does is when it senses that one wheel is getting too much power compared to the other, it applies the brakes to that first wheel to slow it down, giving more power to the second wheel. I haven't noticed this kick in yet, but probably because I'm not giving it full throttle due to the break-in period
Electronics: Included standard on the car is a touchscreen radio with Volkswagen's MDI interface. The MDI interface provides a port in the arm rest where different devices can be plugged in, such as an iPod or USB drive. With the addition of an SD card slot right in the radio, with support up to 32 GB, I no longer need a car computer. The software can be a little flaky at times and could use certain features (like creating an on-the-go playlist), but it suits my needs fine.
Also included is the MFI, which is essentially a trip computer. It tells you trip time, distance, fuel consumption, range left on the tank of gas, etc. The cool part about this is that in the settings menu, you can adjust some convenience settings which normally could only be done using a VAG-COM, such as which doors unlock when you use the keyfob, rolling windows down with the key, etc.
Practicality: The folks on Top Gear always talk about the practicality of a car whenever they review something the average person could buy. Since I'm not going through a mid-life crisis, something practical is what I need. The GTI fits this bill nicely.
There's plenty of room for passengers in the back (a change VW made starting with the MkV) along with all of the creature comforts you would expect from sitting in the front. There's also a good amount of space in the hatch area, and the back seats fold down in case I need to haul anything big. I was able to fit a whole recliner in the back with room to spare, for example.
All in all, I really love this car. It's quick, fun to drive, can get good gas mileage, and it's still useful for when I need it.